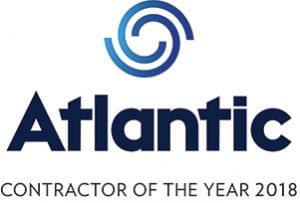 Art of the Yard owners, Shane Hemphill and Heath Webb, are honored to have been named the 2018 Atlantic Professional Contractors of the Year. They were on-hand to receive this amazing award while attending the Second Annual Atlantic Professional Conference in Cleveland, Ohio earlier this month.
This accolade truly reflects our commitment to providing clients with comprehensive and breathtaking landscape design, construction and maintenance. We have a passion for creating yard spaces that meet and even exceed the vision that our clients bring to our team at Art of the Yard. Vibrant water features to gourmet outdoor kitchens and sprawling stone patios, we specialize in backyard dreams come true.
To deliver our absolute best on every project, we provide exceptional customer service and the highest quality products, as well as put over 30 years of combined experience into every transformation. After receiving this honor, we're even more motivated to take our business, and your yard, to the next level.